"Once More a-Lumbering Go" is an American occupational song from the 19th century. It describes the life and work of the lumberjacks who harvested and transported trees, providing raw materials for the growing nation. The work of the lumberjacks also, as their saying goes, "let some daylight into these swamps."
European settlers in North America began chopping down trees to clear land and build homes since their earliest arrival. As the colonies grew, so did logging as an industry. Lumber was needed for houses, public buildings, firewood, and ships for fishing and trade.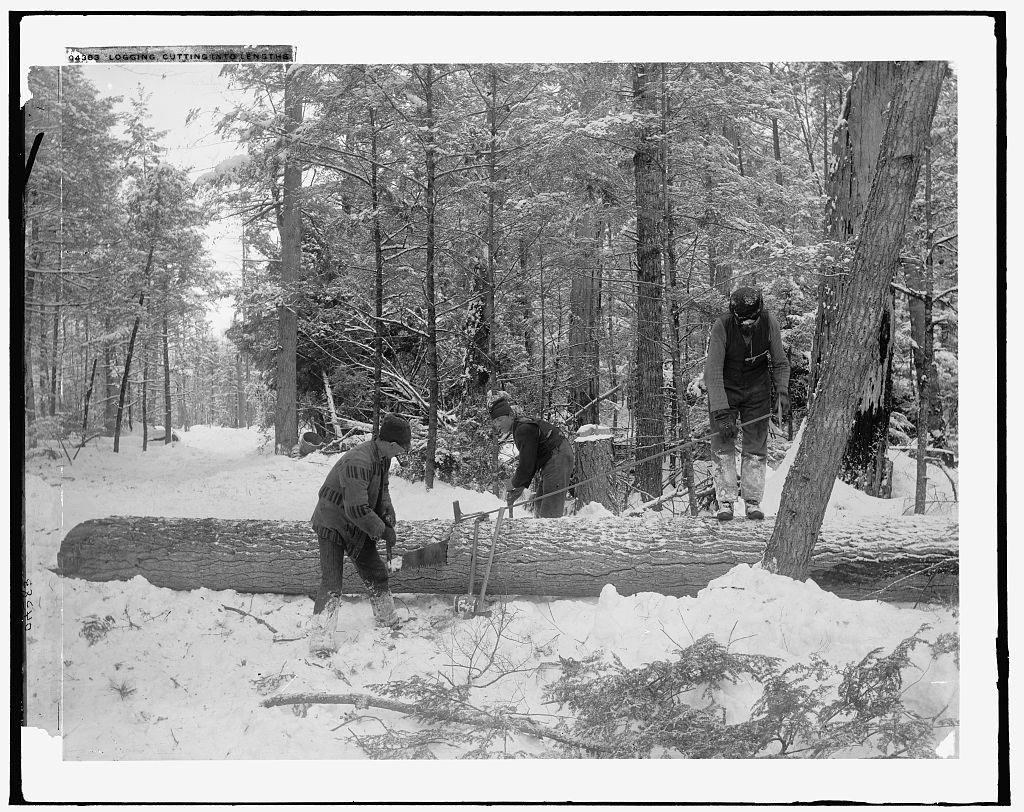 The early logging industry was centered in the northeastern part of what would become the United States. The Northeast had dense forests of white oak, cedar, chestnut, and other trees. The industry started in Maine and Massachusetts and gradually expanded to New Hampshire, Vermont, New York, and Pennsylvania.
Most of the early Maine woodsmen were of English heritage. By the 1830s many Irish immigrants had joined the labor force. By the 1850s Scandinavians, French Canadians, and Eastern Europeans also participated.
In the 1830s, as wood resources were depleted in the Northeast, the logging center migrated to the Great Lakes region. Loggers in Wisconsin and Michigan included people of German, English, Irish, and Dutch descent. By the 1880s, logging was taking place in the Pacific Northwest territories of Oregon and Washington. The work was done by Poles, Swedes, Czechs, Greeks, Armenians, Belgians, Germans, and Dutch.
Lumberjack Life and Work
Workers in the logging industry have been called loggers, lumbermen, lumberjacks, woodsmen, woodcutters, choppers, or shanty boys. During the 19th century, lumberjacks generally called themselves shanty boys, referencing the crudely-built wooden shacks in which they lived. During the working seasons of fall through spring, they lived communally in these bunkhouses at camps near the logging sites.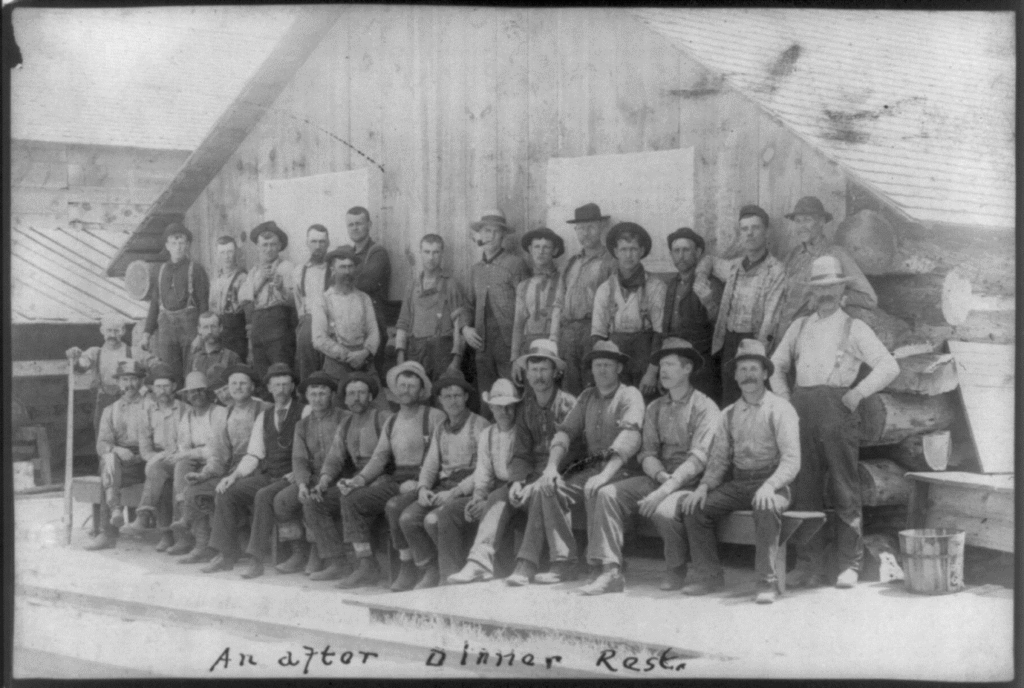 Shanty boys followed the timber-harvesting jobs where and when they were available. The pay was low and the living conditions primitive. Lumberjacks worked 12 to 14 hours a day, sometimes in freezing temperatures. The work was difficult and dangerous. Using only hand tools such as axes and cross-cut saws, they felled trees, removed the limbs, bucked them into logs, and transported the logs to a river to send downstream.
Lumberjack Singing
At night, the lumberjacks returned to their camp. They sharpened their axes and sat at the dinner table, where talking was often forbidden. After dinner they sat on the long, wooden deacon seat beside the stove or around the campfire talking, telling stories, playing cards, and singing songs.
Shanty boys sang songs with which they were familiar, including the old Child and broadside ballads that were carried from the British Isles. They also sang indigenous ballads and songs that were made up in the United States. Some songs were sung by only one singer and some in groups. Some might have had a solo singer on the verses with all joining in on the repeated refrain.
Lumberjacks also created and sang their own occupational songs, including "Once More a-Lumbering Go." Occupational songs describe work, work conditions, or attitude towards work. They differ from work songs, which are sung during the actual act of labor and might be about any topic. Occupational songs are not necessarily sung during work, but they are about the subject of work.
In the 18th century, ballads that concerned themselves with the lives of common people and began with the words "come all ye…" had become very popular in Great Britain. In America, this type of ballad became the basis for many new songs, including "The Lovely Ohio" and "Once More a-Lumbering Go."
"Once More a-Lumbering Go" first appeared in print under the title "The Logger's Boast" in John S. Springer's 1851 book Forest Life and Forest Trees: Comprising Winter Camp-life Among the Loggers and Wild-wood Adventure with Descriptions of Lumbering Operations on the Various Rivers of Maine and New Brunswick. Springer spent several "of the most pleasant years of his life" as a lumberman in the pine forests of Maine. His book is an excellent source of information about the life and work of lumbermen. It is available digitally for free from several online sources, including Internet Archive and Google Books.
Following are the lyrics as printed in Springer's book. No tune is provided.
The Logger's Boast
Come, all ye sons of freedom throughout the State of Maine
Come, all ye gallant lumbermen, and listen to my strain
On the banks of the Penobscot, where the rapid waters flow
O! we'll range the wild woods over while a lumbering we go
When the white frost gilds the valleys, the cold congeals the flood
When many men have naught to do to earn their families bread
When the swollen streams are frozen, and the hills are clad with snow
O! we'll range the wild woods over, and a lumbering we wil go
And a lumbering we'll go, so a lumbering, &c.
When you pass through the dense city, and pity all you meet
To hear their teeth chattering as they hurry down the street
In the red frost-proof flannel we're incased from top to toe
While we range the wild woods over, and a lumbering we go
And a lumbering we'll go, so a lumbering, &c.
You may boast of your gay parties, your pleasures, and your plays
And pity us poor lumbermen while dashing in your sleighs
We want no better pastime than to chase the buck and doe
O! we'll range the wild woods over, and a lumbering we will go
And a lumbering we'll go, so a lumbering, &c.
The music of our burnished ax shall make the woods resoundAnd many a lofty ancient Pine will tumble to the ground
At night, ho! Round our good camp-fire we will sing while rude winds blow
O! we'll range the wild woods over while a lumbering we go
And a lumbering we'll go, so a lumbering, &c.
When winter's snows are melted, and the ice-bound streams are free
We'll run our logs to market, then haste our friends to seeHow kindly true hearts welcome us, our wives and children too
We will spend with these the summer, and once more a lumbering go
And when upon the long-hid soil the white Pines disappear
We will cut the other forest trees, and sow whereon we clear
Our grain shall wave o'er valleys rich, our herds bedot the hills
When our feet are no more hurried on to tend the driving mills
"When our youthful days are ended," we will cease from winter toils
And each one through the summer warm will till the virgin soil
"We've enough to eat," to drink, to wear, content through life to go
Then we'll tell our wild adventures o'er, and no more a lumbering go
And no more a lumbering go, so no more a lumbering go
O! we'll tell our wild adventures o'er and no more a lumbering go
Folk song collector Alan Lomax recorded lumberjack Carl Lathrop singing "Once More a-Lumbering Go" in Saint Louis, Michigan on August 22, 1938. The recording is part of the Alan Lomax Collection of Michigan and Wisconsin Recordings.
John and Alan Lomax printed lyrics and melody for a version of the song in their 1947 book Folk Song, U.S.A. The book was later republished under the title Best Loved American Folk Songs. See Lyrics.
"The Adirondack Minstrel" Lawrence Older recorded the song for folk music collectors Caroline and Sandy Paton in the 1960s. Older was a lumberjack and musician who played fiddle, guitar, and sang songs he learned from his musical family. His recording of "Once More a-Lumbering Go" is part of the Folk-Legacy Records full-length album of his music called Adirondack Songs, Ballads, and Fiddle Tunes.
The 20-minute film Adirondack Minstrel featuring Older can be viewed online at Folkstreams.
Matthew Sabatella and the Rambling String Band's version of "Once More a-Lumbering Go" is based on the printed lyrics and melody in Best Loved American Folk Songs. It appears on their first album of traditional folk songs Over a Wide and Fruitful Land (Ballad of America Volume 1), released in 2004.
(adapted from John and Alan Lomax's Best Loved American Folk Songs, 1947)
Once More a-Lumb'ring Go
Come all you sons of freedom that run the Saginaw stream
Come all you roving lumberjacks and listen to my theme
We'll cross the Tittabawassee where the mighty waters flow
And we'll range the wild woods over and once more a-lumb'ring go
And once more a-lumb'ring go
And once more a-lumb'ring go
And we'll range the wild woods over
And once more a-lumbring go
When the white frost takes the valley and the snow conceals the woods
Each farmer has enough to do to earn the family food
With the week no better pastime than to hunt the buck and doe
And we'll range the wild woods over and once more a-lumb'ring go
And once more a-lumb'ring go
And once more a-lumb'ring go
And we'll range the wild woods over
And once more a-lumbring go
You may talk about your farms your houses and fine ways
And pity us poor shanty boys while dashing in our sleighs
Around a good campfire at night we'll sing while the wild winds blow
And we'll range the wild woods over and once more a-lumb'ring go
And once more a-lumb'ring go
And once more a-lumb'ring go
And we'll range the wild woods over
And once more a-lumbring go
With our axes on our shoulders we'll make the woods resound
And many a tall and stately tree will come tumbling to the ground
With our axes on our shoulders to our boot tops deep in snow
We'll range the wild woods over and once more a-lumb'ring go
And once more a-lumb'ring go
And once more a-lumb'ring go
And we'll range the wild woods over
And once more a-lumbring go
When navigation opens and the waters run so free
We'll drive our logs to Saginaw then haste our girls to see
They will welcome our return and we'll in raptures flow
And we'll stay with them through summer and once more a-lumb'ring go
And once more a-lumb'ring go
And once more a-lumb'ring go
And we'll range the wild woods over
And once more a-lumbring go
When our youthful days are ended and our jokes are getting long
We'll take us each a little wife and settle on a farm
We'll have enough to eat and drink contented we will go
And we'll tell our wives of our hard times and no more a-lumb'ring go
And once more a-lumb'ring go
And once more a-lumb'ring go
And we'll range the wild woods over
And once more a-lumbring go