Ballad of America preserves and celebrates music from America's diverse cultural history through:
Music Articles
Fascinating histories of songs, genres, instruments, and more
For Educators
Resources to help teachers, both traditional and homeschool, integrate music and United States history
Sing It
Sing-along recordings and lead sheets to facilitate the singing of American folk songs by people of all ages
Live Events
Multimedia programs that entertain, inspire, and inform people of all ages, delivered in-person and online
The music in America today is part of a continuum that reaches back to Colonial America and stretches across the Atlantic Ocean to the Old World. Music, instruments, and songs tell the story of the ordinary and extraordinary people who have populated the United States and propelled it into the 21st century. The genres of music explored through Ballad of America include traditional folk songs, fiddle tunes, ballads (both Old and New World), sea shanties, railroad and cowboy songs, Appalachian, ragtime, spirituals, work songs, minstrel, blues, jazz, jug band, rhythm and blues, old-time, country and western, bluegrass, and rock & roll.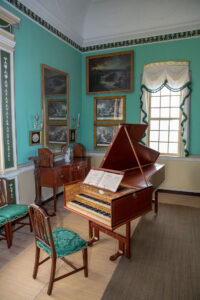 Colonial music was not so much music written in America before the Revolution as it was music that was brought here and helped define the people who were to make a new country. Understanding the music that early Americans chose to sing and play gives us a better understanding of the colonists themselves. Read more...
This article is the result of our new partnership with The Colonial Music Institute at George Washington's Mount Vernon (CMI). Ballad of America will be publishing articles by CMI's David K. Hildebrand, who teaches American music history at the Peabody Institute of The Johns Hopkins University.