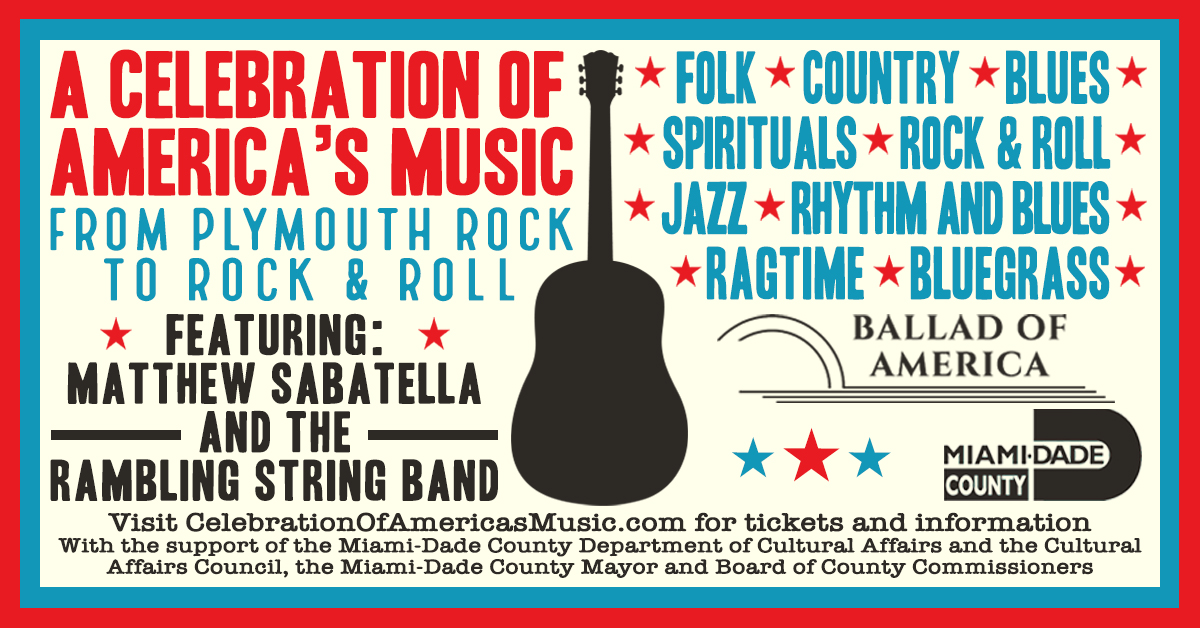 2021
10:00 a.m. - 11:30 a.m. EDT
2021
2:00 p.m. - 4:00 p.m. EDT
Live on stage
in South Florida!
A fun and fascinating journey through American musical history!
Great for all ages!
Take a journey through time and celebrate the multicultural nature of the music of the United States. Matthew Sabatella and the Rambling String Band perform the songs and tell the story that connects traditional folk music, spirituals, fiddle tunes, Appalachian music, ragtime, blues, rhythm and blues, jazz, country, bluegrass, and rock & roll. Beautiful projected images enhance this fun and unique experience for all ages. You'll sing and clap along as the story unfolds of how songs and musical styles emerged from encounters among diverse people and the American experience itself.
Featuring Matthew Sabatella on vocals, guitar, banjo, and mountain dulcimer; Sean Edelson on mandolin, Chris DeAngelis on bass; and Jack Stamates on fiddle.
With the support of the Miami-Dade County Department of Cultural Affairs and the Cultural Affairs Council, the Miami-Dade County Mayor and Board of County Commissioners.