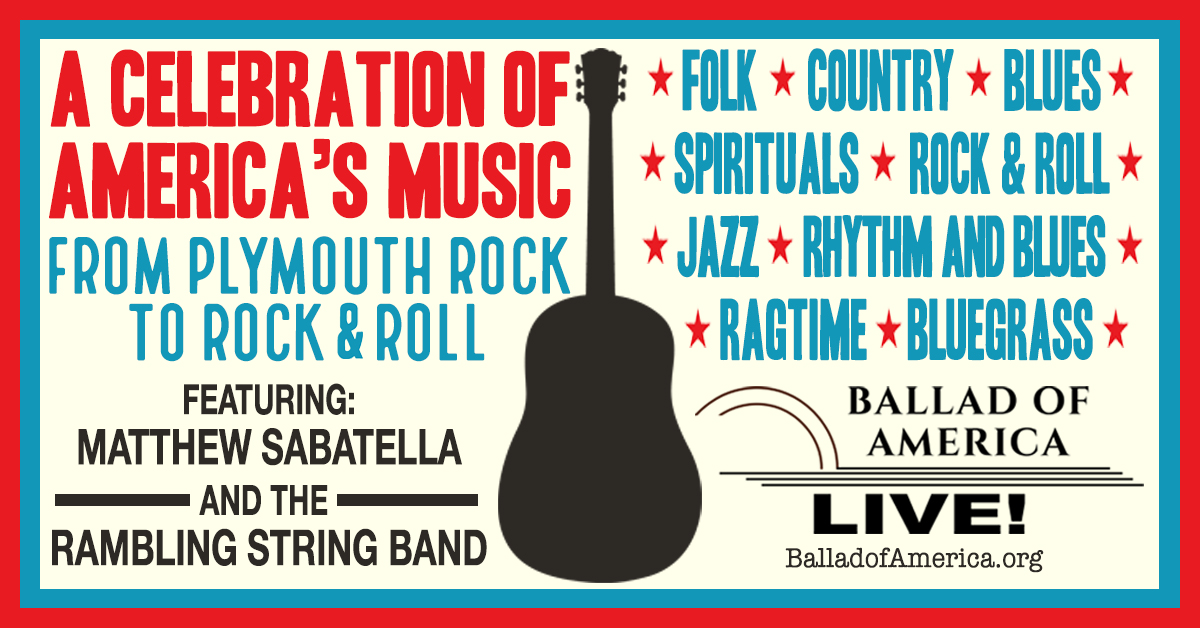 A fun and fascinating journey through American musical history!
Take a journey through time and celebrate the multicultural nature of the music of the United States. Matthew Sabatella and the Rambling String Band perform the songs and tell the story that connects traditional folk music, spirituals, fiddle tunes, Appalachian music, ragtime, blues, rhythm and blues, jazz, country, bluegrass, and rock & roll. Immigrants, both voluntary and involuntary, have been carrying their musical traditions to the New World since before the United States became an independent nation. New songs and styles emerged from encounters among diverse people and the unique American experience itself. As America changed, grew, and pushed its boundaries, so did the music.
Beautiful projected images enhance this fun and unique experience for all ages. Featuring Matthew Sabatella on vocals, guitar, banjo, and mountain dulcimer; Sean Edelson on mandolin, Chris DeAngelis on bass; and Jack Stamates on fiddle.
Call 305.753.1850 or email matthew@balladofamerica.org.
Here's what people have said:
Matthew Sabatella and the Rambling String Band captivated the Starlight Theater audience with their performance. Matthew's beautiful voice along with his impressive knowledge of American music, delivered a unique and wonderful show. The band's sound is exceptional. We had nothing but rave reviews from residents and guests. This is a multimedia show that you don't want to miss!
Rosi Aponte, Entertainment Director, Starlight Theater
THANK YOU!! It was FABULOUS. We so enjoyed your narration and the "tour" through history. The selections were wonderful and the musicianship just fabulous. You and your team are extraordinary and you gave a great gift to American students! Thank you again.
Tina G, Homeschool Parent
Just taking a moment to once again say your performance was just perfect! The rave reviews keep coming in. Thank you all for a wonderful show. See you again.
Marsha Decker, Social Director, Ponte Vecchio
Thank you so much for the wonderful performance this morning! Our students loved the show!
Dr. Kristine H. Burns, Chief Administrator, Atala Montessori School for Creative Expression
Thank you so much for the amazing show yesterday! All day we have been getting rave reviews from the residents saying it was the best Fourth of July show we have ever had at John Knox Village. You all were great!
Sara Berkowitz, Activities Manager, John Knox Village
My kids and I absolutely loved it!  It was so interesting to see how the influences of African rhythms and European instruments combined to create many uniquely American genres of music that spread to other areas of the world. It's wonderful how music can uplift and inspire people of different backgrounds to overcome adverse circumstances and act as a great unifier.
Kerri P, Homeschool Parent
A Celebration of America's Music: From Plymouth Rock to Rock & Roll was a highlight of OLLI Boca's Fall season. Patrons found it not only informative but wonderfully entertaining. Attendees thoroughly enjoyed this tour through American music; as one said of the program, "One of the best in 10 years at Lifelong Learning!"
Judith A. Scara, Director, Osher Lifelong Learning Institute at Florida Atlantic University